This page is a stub.
You can help the Sky Does Minecraft Wiki by expanding it.
Expand by using correct and useful information.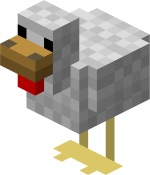 ThunderMuffin is the pet of House Owner in Minecraft ROOMMATES!. The original chicken was Thundercluck, but in Minecraft Teacher, Thundercluck was punched to death by sky. Thunder muffin likes to throw multiple parties with his many, many chicken friends. When ThunderMuffin does something wrong, like throw a party, his punishment is time out for usally 30 minutes, much to Sky, Jin, and Barney's dismay. He looks excatly like other mincraft chickens, but Ross (House_Owner) claims he looks very different from the others. ThunderMuffin stars in Minecraft Roomates, one of Sky's roleplays. He is the only pet in the house, except for Goat, which is owned by ThatGuyBarney.
Ad blocker interference detected!
Wikia is a free-to-use site that makes money from advertising. We have a modified experience for viewers using ad blockers

Wikia is not accessible if you've made further modifications. Remove the custom ad blocker rule(s) and the page will load as expected.