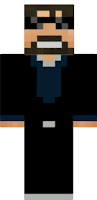 Ssundee or simply Ian is a Youtuber who became popular on Youtube in early 2013. His Minecraft skin is him wearing jeans, a dark blue shirt, a black jacket, and a pair of sunglasses. In the video "The New Cops And Robbers 10! " by Sky, Ian removed his sunglasses from his skin and started acting like a crazy person. He currently has over 7 million subscribers.
Gallery
This page is a stub.
You can help the Sky Does Minecraft Wiki by expanding it.
Expand by using correct and useful information.
Ad blocker interference detected!
Wikia is a free-to-use site that makes money from advertising. We have a modified experience for viewers using ad blockers

Wikia is not accessible if you've made further modifications. Remove the custom ad blocker rule(s) and the page will load as expected.