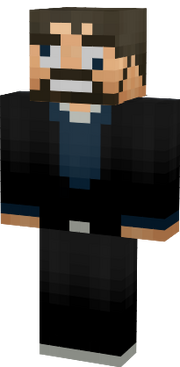 Ssundee or simply Ian is a Sky Army Recruit and youtuber who joined in early 2013. His minecraft skin is him wearing jeans, a dark blue shirt, a black jacket, and a pair of sunglasses. In the video "The New Cops And Robbers 10! " by Sky, Ian removed his sunglasses from his skin and started acting like a crazy person. Recently, Ian along with Sky's other friends, got at least 1,000,000 subscribers on their youtube account. Ian got 1 million suscribers on August 23, 2013, making him the most recent person to get 1,000,000 subscribers.
Gallery
You can help the Sky Does Minecraft Wiki by expanding it.
Expand by using correct and useful information.