This page is a stub.
You can help the Sky Does Minecraft Wiki by expanding it.
Expand by using correct and useful information.

The Squidinator 6001 is a giant robotic squid that the evil squid controls. The first Squidinator was blown up and Sky thought the assault was over until The Squidinator 6001 appeared again in Minecraft Mod Showcase: MUTANT SKELETONS!!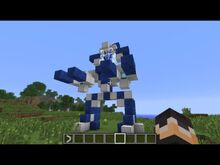 Ad blocker interference detected!
Wikia is a free-to-use site that makes money from advertising. We have a modified experience for viewers using ad blockers

Wikia is not accessible if you've made further modifications. Remove the custom ad blocker rule(s) and the page will load as expected.